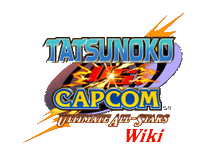 Welcome to a New World of Fighting!
Welcome all fighting fans. A game that was never supposed to reach the US shores but it did, the awesome Tatsunoko vs Capcom: Ultimate all Stars is here. This site gives all sorts of information from the original Tatsunoko vs Capcom:Cross Generation of Heroes to Ultimate All Stars. Get ready for the Ultimate fight!
The Games
Tatsunoko Characters
Capcom Characters
Latest Activity
Community
Ad blocker interference detected!
Wikia is a free-to-use site that makes money from advertising. We have a modified experience for viewers using ad blockers

Wikia is not accessible if you've made further modifications. Remove the custom ad blocker rule(s) and the page will load as expected.